Buckskin Gulch is a famous slot canyon in Utah boasting the title as the longest continuous slot canyon in the world. According to the Bureau of Land Management, Buckskin Gulch travels through approximately 16 miles of unique formations and rippled sandstone walls in the northern stretch of the Paria Canyon-Vermilion Cliffs Wilderness. Although you can do the whole Buckskin Gulch hike in a long day, you can also have a wonderful and shorter experience doing the Wire Pass to Buckskin Gulch hike. That hike takes only about three hours.
On the Wire Pass to Buckskin Gulch hike, you are also able to explore the Wire Pass slot canyon – a worthy experience in my view. If you're in the Page – Kanab area, this is a great way to experience two slot canyons on one hike. Over several miles you'll walk through a wash, pass the turnoff to the Wave (don't even try to sneak in), stand in awe while looking up the soaring canyon walls, climb down a 10-foot ladder, and see some petroglyphs, if you know where to look. You will also witness the power of a flash flood – cue the old ladder wedged high between the canyon walls of Buckskin Gulch.
This post includes some affiliate links. If you make a qualifying purchase through one of these links, I will receive a small percentage of the sale at no extra cost to you. Thank you very much for your support.
Wire Pass to Buckskin Gulch hike summary
Permits are required to hike from Wire Pass to Buckskin Gulch. (See below for details.)
Dogs are allowed on the hike, but they also need a permit. Use common sense on whether to bring them with you on hot days.
This is a family-friendly hike, and one kids will love.
Before you head for the Wire Pass trailhead, check road conditions here. You can also call the Paria Ranger Station at (435) 644-1200 for the most up to date information.
If you are joining a tour, you should know that from mid-March until early November, Arizona is one hour behind Utah. Arizona does not observe daylight saving time.
While you can start at the Buckskin Trailhead, it's a not-so-interesting 3 mile walk in a sandy dry wash before you reach the Buckskin Gulch slot canyon – Wire Pass Trail junction. It's much faster and more rewarding to start at the Wire Pass trailhead. 
Don't count on cell phone service once you reach the trailhead. If you need maps download offline Google maps and maps from whatever trail app you use.
If you're not on a tour, be sure to let someone know your itinerary and when you expect to be back.
Pit toilets are available at the Wire Pass trailhead parking lot.
Leave no trace, packing out whatever you pack in.
Be smart about your abilities. Turn back when the hiking gets uncomfortable. You need to be prepared for a 10-foot ladder and water or mud along the trail.
You do not need to carry rope to do this part of Buckskin Gulch.
Do not count on water supplies in the canyons. Carry whatever drinking water you'll need.
The advantage of using a tour company
John and I were lucky to go with a guide from Grand Circle Tours. Normally we don't need hiking guides but there are several advantages to going guided on this hike.
The tour company will organize all the permits – and while that may not require a lot of work, it's one less thing for you to do.
If you're traveling solo, you'll have some company, and it's a whole lot safer. 
You don't have to worry about getting to the trailhead. It's not that it's hard to find, but I wouldn't want to wreck my car or take a basic rental car on such a road. 
Our guide, Bruce, pointed out things along the trail we would have missed. We learned the story about how hard the tour companies had to push to allow one ladder to be used in this protected wilderness area. (Note that it is made with only natural materials!) We would have gone right by The Queen" without giving her a passing glance, and there's a good chance we would have missed the petroglyphs.
Lunch and water are provided so all you have to do is show up with the proper footwear and clothing. 
The guide is trained for emergencies. They also will have checked the local weather, so you know if you're going, save for a freak storm, it's safe to do so.
Do you need a permit to hike to Buckskin Gulch via Wire Pass?
Permits are required to hike to Buckskin Gulch via Wire Pass. Day hikers require a day-use permit, but advance permits are needed if you have plans to camp in the canyon. 
The Buckskin Gulch Day use permit costs $6.00 per person and $6.00 per dog. A Buckskin Gulch Day use permit is required for anyone entering Bucking Gulch via the Buckskin Trailhead, White House Trailhead, and the Wire Pass Trailhead. The pass CANNOT be used for any other areas including Paria Canyon, Coyote Buttes North (The Wave), or Coyote Buttes South. Permits MUST be displayed on your vehicle dashboard. The PASS ID needs to be visible. They also ask that you sign the register going in and coming out.
Permits are non-refundable and non-transferable and cannot be replaced if they are lost or stolen. The bottom line – cross your fingers you've picked a good date with no rain in the forecast, and you don't lose the permit!
BEFORE YOU GO: Purchase the Buckskin Gulch Day use permit before you drive to the trailhead, especially since cell signals can't be relied upon at the trailhead. You can purchase it online here. 
Don't attempt to avoid paying. Rangers check all the time, and the fines aren't worth the risk.
There are multi-day options to hike Buckskin Gulch to Paria Canyon and all the way to Lee's Ferry. Only 20 backpacking permits are given out every day so it's very competitive to score a permit. A great resource is the post by Clever Hiker.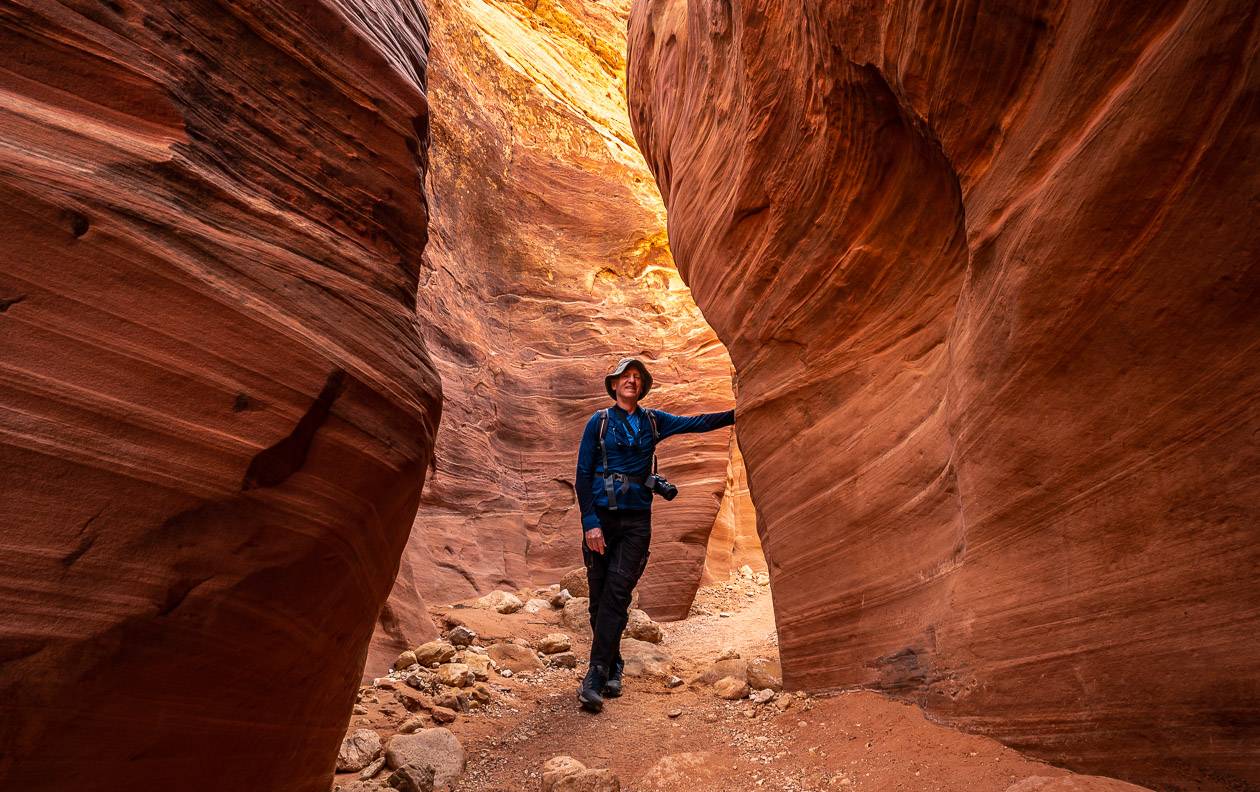 How to get to the Wire Pass trailhead
From Kanab drive 37 miles east on Highway 89. If you're coming from Page, drive 36 miles west on Highway 89. Turn south onto the Cockscomb House Rock Valley Road and continue for approximately 4.5 miles. It becomes House Rock Valley Road just after you pass the Buckskin Gulch trailhead. Continue for another 3.5 miles to reach the Wire Pass trailhead on your right or west side of the road.
House Rock Valley Road is a gravel – dirt combination that is impassable when wet, even with high clearance, four-wheel-drive vehicles. Many people will tell you that you can reach the Wire Pass trailhead in a two-wheel-drive, high clearance vehicle. If it's your own car and you don't mind the thought of leaving a back bumper along the way, go for it. Most of the road is fine – but there are a couple of steep washes where it would be easy to run into trouble. And if it's a rental car you're driving, watch out, as there is probably a clause preventing you from driving such roads.
We drove into the trailhead with a guide. His recommendation was to only use a four-wheel-drive, high-clearance vehicle – and that's based on his observations over the years of how many rescues are needed. Use a little common sense and don't go near the road if it's rainy or snow-covered or if you have no four-wheel driving experience.
From Arizona
It's also possible to drive to the Wire Pass trailhead from the Arizona side of the border via Highway 89A and House Rock Road. At the Utah – Arizona border, House Rock Road becomes House Rock Valley Road. If you do that, be sure to stop at the Condor Viewing site, visible shortly after turning north onto House Rock Road.
Use the same precautions on House Rock Road as you would on House Rock Valley Road. Don't drive if it's wet or rain or snow are in the forecast.
What is Buckskin Gulch?
Buckskin Gulch is the longest and deepest slot canyon in the world – and easy to access via Wire Pass. Water from the Buckskin Gulch slot canyon drains part of Vermilion Cliffs National Monument with that water entering the Paria River, and ultimately the Colorado River. Near the junction with the Paria River canyon walls soar 400 feet. In some sections the walls are only 10 feet apart but after my canyoneering experience in the Grand Staircase Escalante slot canyons , that sounds positively wide.
Wire Pass – Buckskin Gulch trail stats
Trail Distance: It's 1.8 miles one way to the junction of Wire Pass and Buckskin Gulch. From there, if you go right, you can continue for about a mile before it gets very wet and muddy. You couldn't get very far in the other direction when we visited. We ran into a lot of water and mud within 5 minutes of hiking.
Elevation Gain: Minimal
Canyon width: Some parts of the Wire Pass slot canyon are just three feet wide.
Difficulty: Easy
Time Required: 3 – 4 hours
Best time to go: Shoulder season; October – November and April – June.
Our experience on the Wire Pass to Buckskin Gulch hike
John and I did the Wire Pass to Buckskin Gulch hike with Grand Circle Tours. Our guide Bruce has been leading tours for years and in fact is the person who builds the ladders that makes the trip to Buckskin Gulch that much more doable. He told us that he makes two ladders at a time as they are always getting washed away. Take heed as this canyon has a reputation for dangerous flash floods.
There is a trail register in the parking lot which you should sign if you're not in a group, so someone has a record of when you started.
The hike starts across the road. Follow Coyote Wash for about a mile – staying in the wash to avoid hurting the vegetation. Pass a lovely section of sandstone filled with wave-like patterns before you enter the Wire Pass slot canyon. In no time reach the 10-foot ladder. It's well-built and there's a place for someone to step off and help others. For safety's sake, walk down the ladder, facing the rock. (In busy periods there can be a line-up to get down and back up the ladder.)
After the ladder the canyon opens again. We could see another route with people on it, who were avoiding the ladder altogether, though it's steep – scroll down to see the photo.
At the exit of the Wire Pass canyon, about 1.8 miles from the trailhead, you'll see a massive wall of rock reaching for the sky. If you time it right, the rock face practically glows. At the bottom of the rock near the right-hand corner as you're looking out of the Wire Pass slot canyon are petroglyphs. Look but don't touch! Many people turn around where the Wire Pass slot canyon meets Buckskin Gulch but if you've got the time keep going.
We turned right and continued walking for about a mile until the Buckskin Gulch slot canyon narrowed and got quite muddy and wet. It's all very flat through here and easy walking. At the end there was some easy rock hopping. If you have a permit to hike the whole of Buckskin Gulch, wear your old clothes as you're going to get muddy!
We spent about 3.5 hours in total in the two slot canyons, but that includes a stop for lunch where Buckskin Gulch meets Wire Pass. You could hike it far faster than we did, but I wouldn't recommend it. This is a very special part of Utah that is like no other you have likely visited. Slow down. Look up. Enjoy the beauty and the experience.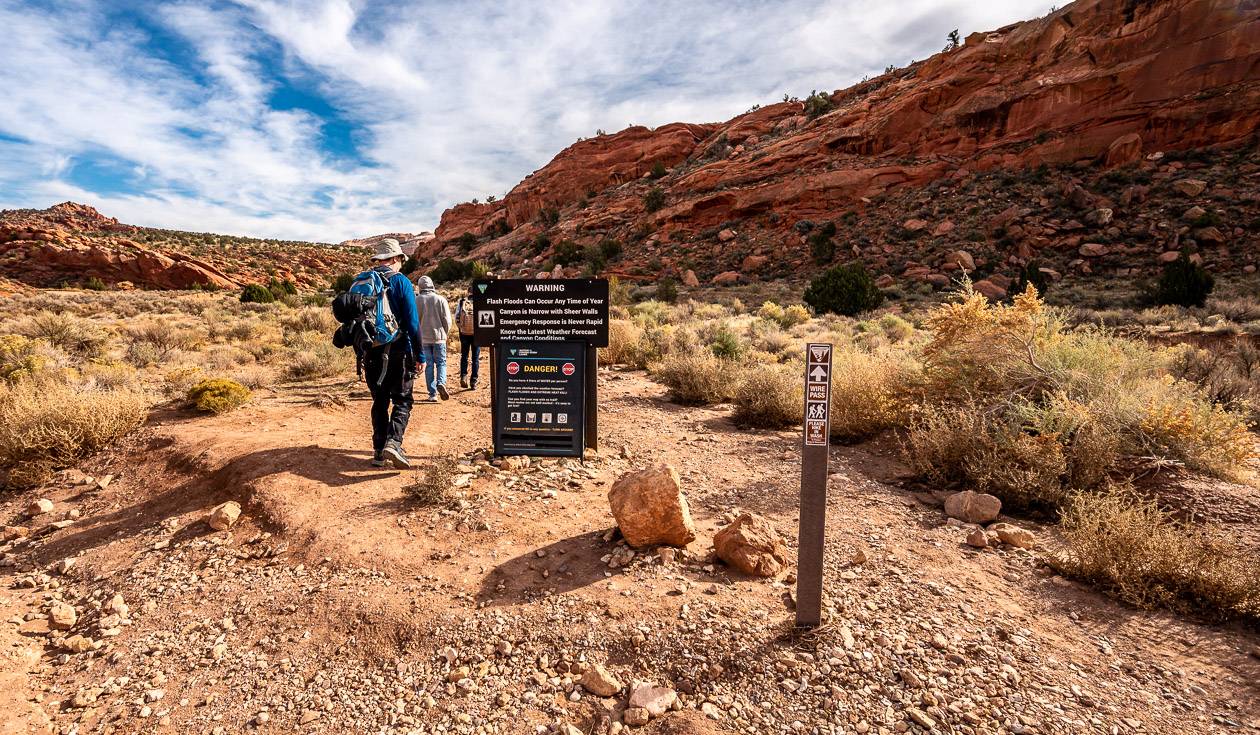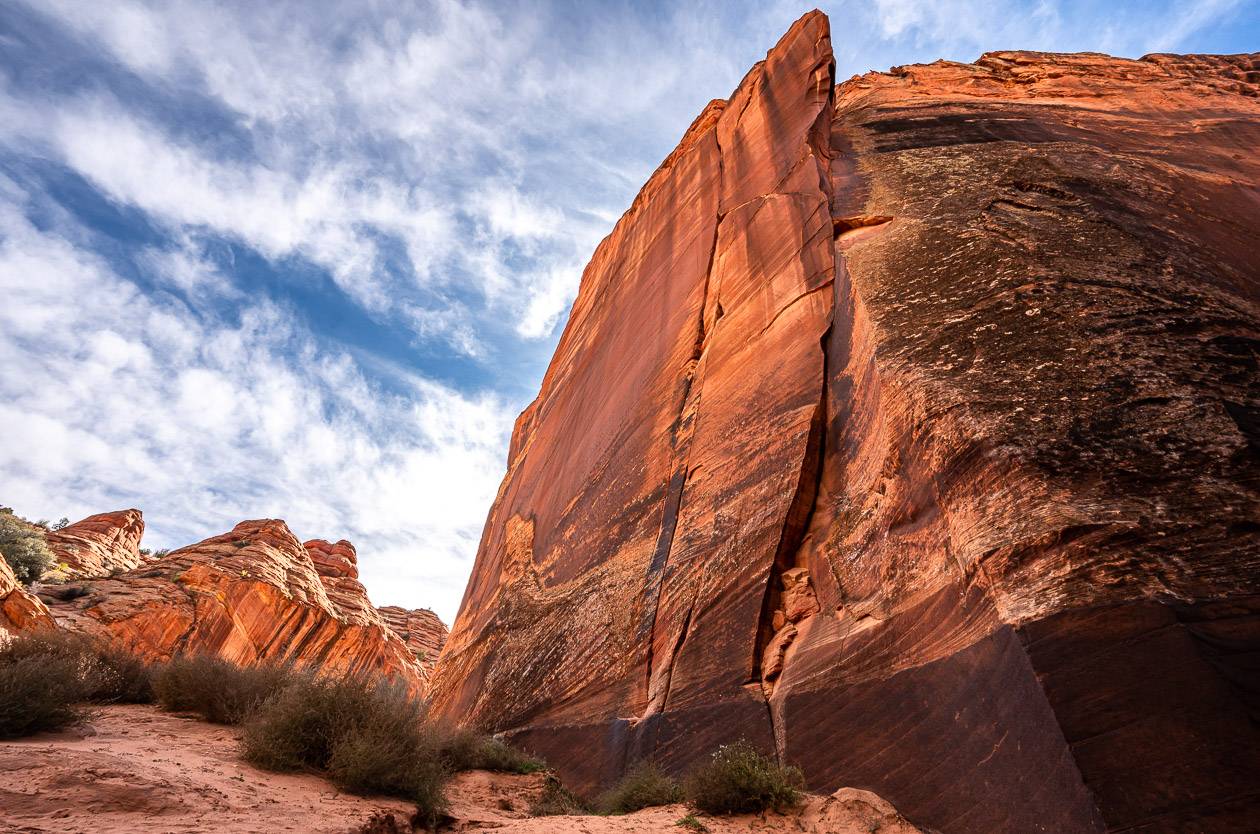 What's the best time of year to hike to Buckskin Gulch from Wire Pass?
Don't hike Buckskin Gulch during the monsoon season which typically lasts from mid-July to mid-September. Storms are difficult to predict and when they happen, there is a high risk of flash floods. As you can see in the photo below, the water level one year moved the ladder from the Wire Pass Canyon to Buckskin Canyon and left it about 20 – 25 feet up in the air. Quick exits from the slot canyons are hard to find.
How hard is the hike for dogs?
Even though your dog is allowed on the trail (after paying the $6 fee), they may have a difficult time. Aside from blistering heat in the summer months, there is one ten-foot ladder you and your dog must negotiate. For most people, it's not a problem. But getting your four-footed friend down and then up again it is another thing altogether.
We helped a couple of women with their dog, lifting it up so they could grab it. The bigger the dog, the bigger the problem. You can avoid the ladder altogether by taking a steep side trail but not everyone knows about it – and it takes longer.
Where to stay in Kanab and nearby
John and I spent one night at Canyon's Boutique Hotel. It has a fantastic onsite restaurant called Sego.
We spent another couple of nights at Cave Lakes Canyon Ranch. It offers glamping tents in a tranquil setting but there is no onsite restaurant so you will need to bring food, cutlery and plates or drive into Kanab.
If you're on a camping budget, check out the Stateline Campground, located on the Utah – Arizona border. There are 8 campsites and it's free.
Location map of the Wire Pass to Buckskin Gulch hike
What else can you do in the area?
Other hikes in the Kanab – St. George area
Planning more time in Utah?
If you're planning to visit some of Utah's famous national parks or the Moab area then I think you'll find many of the following blogs helpful.
Arches National Park and the Moab area
Capitol Reef National Park
A big thank you to Visit Utah for hosting me. All thoughts and opinions are mine alone.
Click on the photo to bookmark to your Pinterest boards.