Planning a trip to Iceland?
You're in for an amazing time. Iceland is one of the most beautiful countries in the world, and its landscapes will take your breath away. From glaciers to waterfalls and beautiful hikes, there's something for everyone in Iceland!
But when is the best time to visit? That all depends on what kind of vacation you have in mind.
This guide will help you plan your perfect trip to Iceland, based on the season. We'll tell you about the best places to visit, what activities are available, and what kind of weather you can expect.
Whether you're looking for a winter wonderland or a summer getaway, we've got you covered.
Let's jump in!
What Is the Best Time to Visit Iceland?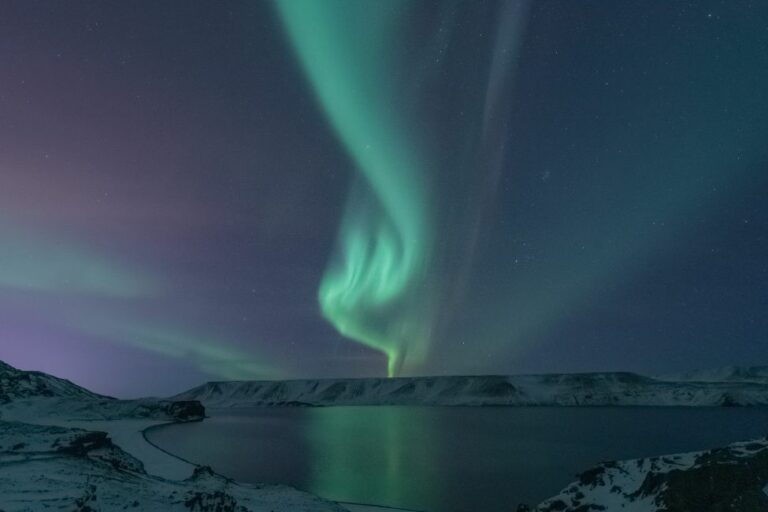 If you're hoping to enjoy mild weather and long days during your trip to Iceland, summer is undoubtedly the best time to visit.
July and August offer the country's warmest temperatures. It is also the only time of year that 20 out of 24 hours in a day are sunlight hours! This makes it an ideal time for outdoor activities such as hiking, horseback riding, and camping.
It is worth noting that summer is the busiest time of year in Iceland. So if you're looking for a more relaxed experience, you may want to consider planning your trip for late spring or early fall. The days will be shorter then, but you'll still enjoy milder weather than in winter, and won't have to contend with as many crowds.
Whichever time of year you choose to visit Iceland, you're sure to have an unforgettable experience.
What Is the Weather Like in Iceland During Each Season?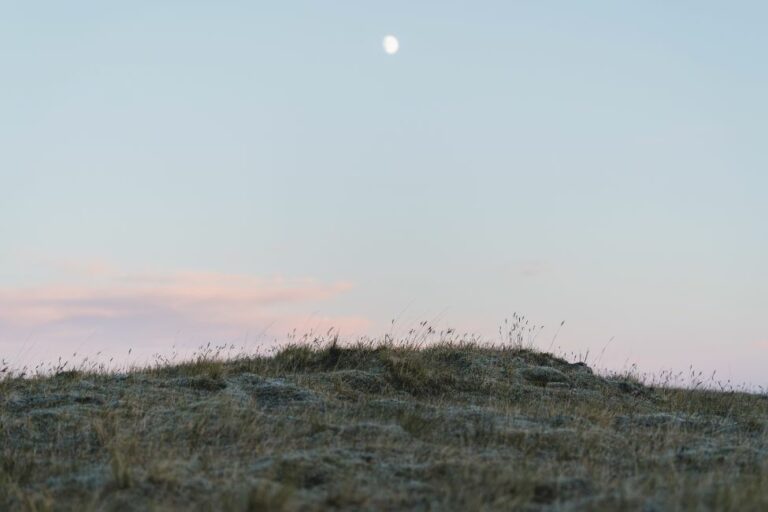 The weather in Iceland varies depending on the season, so it's important to know what to expect prior to traveling. Here is a breakdown of the weather in Iceland during each season.
Spring (late March-June)
The temperatures in Spring vary widely and can range from just below freezing to around 50 degrees Fahrenheit. April and May are the best months to travel, as the days are longer with a much smaller chance of rain or snow. 
What to Pack for a Spring Trip
When packing for a trip to Iceland in the spring, it is important to remember that temperatures vary and can range anywhere from just below freezing to around 50 degrees Fahrenheit. Bring items of clothing that can be layered (a great packing hack for any trip!), so that you can be prepared for any temperature changes. A few essential items of clothing include a windbreaker, a heavy coat, t-shirts, jeans, and a scarf.
Summer (late June-August)
The warmest months in Iceland are June, July, and August, but due to the Gulf Stream, the country never gets really "hot."
The average temperature during these months is around 50 degrees Fahrenheit. However, it is not uncommon for temperatures to drop into the 40s.
One of the most notable things about the summer weather is the long days – the sun practically never sets! A truly unbelievable experience.
What to Pack for a Summer Trip
For summer trips, be sure to bring a few light sweaters and jackets for cooler days, and some shorts or skirts for warmer days. A hat and sunglasses are also important to protect you from the sun. And don't forget your swimsuit!
Autumn (late August-October)
The weather in Autumn starts to cool down, with average temperatures in the low-40s. The fall months can still be quite rainy and not as popular of a time for tourists to visit. But there are many indoor activities, such as museums and theater productions you can enjoy!
What to Pack for an Autumn Trip
Similarly to packing for a spring trip, it is important to layer your clothing when packing for a trip in the fall. A lightweight coat, long-sleeved shirts, and jeans are essential items of clothing during this season.
Winter (November-March)
Temperatures in Winter are typically below freezing, but not as cold as you may expect! In fact, winters here tend to be milder than in New York, for example, because of the current brought in by the Gulf Stream.
Winter is also the only time to catch the Northern Lights, so many people consider it worth braving the many hours of darkness that set in during the winter months.
What to Pack for a Winter Trip
For winter trips, pack plenty of warm and waterproof layers, as well as gloves and a hat or headband. Lighter clothes are still important; it can be helpful to take off some layers when it gets warm. And of course, don't forget your camera – the winter months offer some of the most spectacular sights in Iceland!
No matter when you decide to visit Iceland, you're sure to have an incredible experience. Just remember to dress for the weather and pack your raincoat!
How Much Should I Budget for a Trip to Iceland?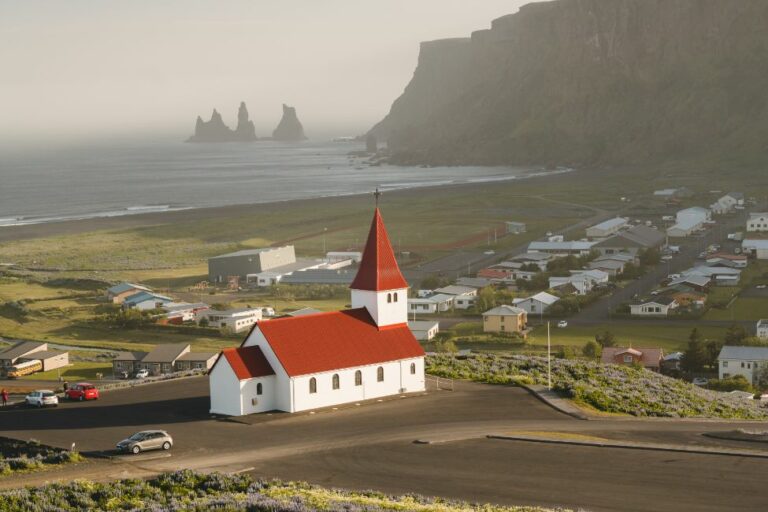 Your budget for traveling to Iceland will depend in large part on your individual travel preferences. On average, a 7-day trip to Iceland can cost anywhere from $700 to $1500 per person. However, those traveling on a budget or during shoulder seasons may find lower rates. 
Flights to Iceland tend to be more expensive during peak seasons, such as the summer months and around the Christmas holidays. Once in Iceland, transportation, food, and drink costs are all relatively inexpensive compared to other European destinations.
Also, keep in mind that Iceland is notorious for its high taxes; these taxes include a VAT that is applied to virtually everything you purchase. This is because Iceland is an island and most products need to be imported.
Accommodation expenses will largely depend on what type of accommodation you choose – from camping and hostels to luxury hotels. There are also plenty of affordable guesthouses, AirBnBs, and apartments available for rent across the country. If you're looking for something more upscale then there is an array of luxury resorts as well as unique glamping experiences available throughout the country, as well. 
When it comes to activities, many attractions in Iceland are free or low cost such as exploring natural wonders like waterfalls or hot springs. However, if you're looking for adventure tours like glacier hikes or snowmobile safaris they can get quite pricey depending on what's included in the tour package.
Additionally, remember that most restaurants and bars in Iceland accept only credit cards so make sure your card has no foreign transaction fees before your trip! 
Overall, when planning a trip to Iceland it's important to take into account all of your expenses including airfare, accommodation costs, food/drink prices & entertainment options so you have an accurate picture of how much your entire vacation will end up costing you.
With careful planning and budgeting beforehand, you can still enjoy a wonderful stay in this beautiful country without breaking the bank!
Best Things To Do in Iceland During Each Season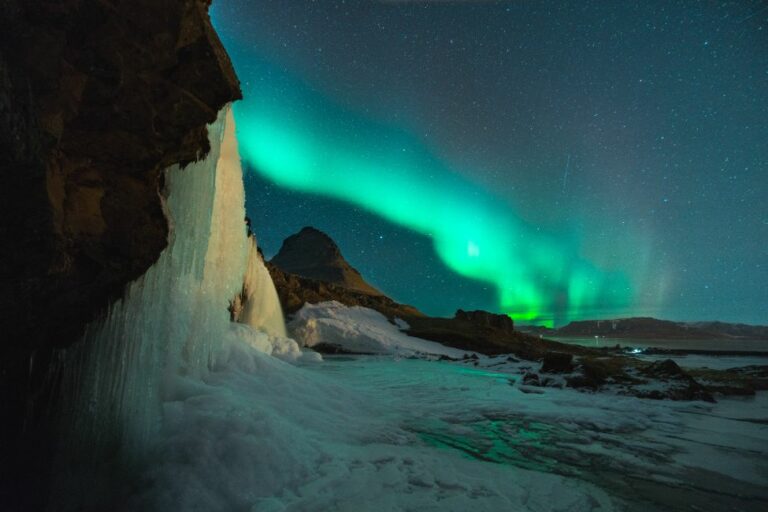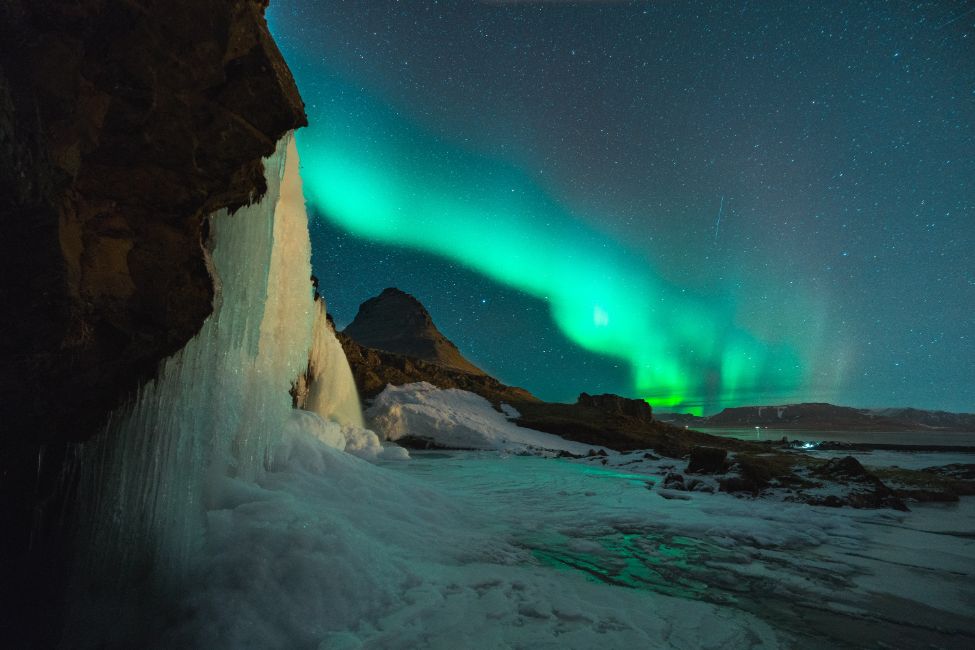 No matter what season you choose to travel during, there are many amazing things to do in Iceland!
The Northern Lights
Winter in Iceland is a special time, full of unique experiences. One of the most breathtaking natural phenomena that can be seen in the winter months is the Aurora Borealis, also known as The Northern Lights. Every year, thousands of people flock to Iceland to take part in this magical display of lights.
During the winter months, it's best to head out into the countryside and find an area away from light pollution so you can get an optimal view of the sky. Wrapping up warmly is important because temperatures can drop below freezing during even the mildest of winters.
Exploring Glaciers and Ice Caves
Another great activity for the winter months is exploring some of Iceland's many glaciers and ice caves. Jökulsárlón glacier lagoon is a popular spot for visitors who want to enjoy views of floating icebergs beneath a starry night sky. Other glaciers like Vatnajökull or Skaftafell offer amazing ice caves that are perfect for exploring on a cold day. It's also worth checking out some of Iceland's geothermal pools that remain open all year round; soaking in one of these hot springs surrounded by snow and ice is one of the best ways to experience the country's unique landscape in wintertime! 
Midnight Sun
In the summertime, temperatures are much warmer than in winter but it will never get truly hot. During this time, Iceland attracts its highest number of tourists so it's a great time to explore all that this country has to offer – both indoors and outdoors!
One must-see attraction during summertime is the Midnight Sun phenomenon which occurs during June and July when daylight lasts almost 24 hours each day making it possible to stay outside until late at night.
Hiking, Fishing, Whale Watching
The extra daylight hours during summertime in Iceland make activities like hiking, fishing, and whale watching more accessible than during other times of the year and allow visitors more time to explore what this beautiful country has to offer!
Waterfalls
Other great activities during summertime include visiting some of Iceland's many waterfalls such as Gullfoss or Seljalandsfoss or taking hikes around landforms like Reynisfjara beach or Þingvellir National Park where visitors can explore ancient lava fields and fissures with incredible views over lake Þingvallavatn.
Museums and Restaurants
Spring and autumn are both beautiful times to visit Iceland. During these months, temperatures are milder and can be quite rainy. If you choose to come during the off-season, there are many great galleries around Reykjavik that are great to visit all year around. Of course, no trip would be complete without visiting some of Reykjavik's famous museums or enjoying traditional Icelandic cuisine at one of their many restaurants!
Birdwatching
Sping is a great time to experience some of the country's interesting wildlife. Birdwatchers in particular might enjoy the abundance of sea birds that nest on Iceland's coastline during this time.
Renting a car is also an excellent way to explore the less-travelled roads, where you can enjoy the country's mesmerizing landscape of mountains, glaciers, and fjords from up close.
Best Foods to Try in Iceland
When it comes to the best foods to try in Iceland, you can't go wrong with some classic Icelandic fare. From delicious dairy products to succulent roast lamb and even traditional fermented shark, there is something for everyone to enjoy.
Slow-Roasted Lamb
Slow-roasted lamb is another Icelandic delicacy worthy of exploring while on vacation. This dish is prepared with robust herbs and spices like rosemary, thyme, oregano, and garlic, giving the meat an amazing depth of flavor that's hard to beat. Its juicy texture pairs perfectly with boiled or mashed potatoes for a truly amazing meal experience. 
Hákarl
Not for the faint of heart (or stomach!), Hákarl is arguably one of Iceland's most iconic dishes. It's made from fermented shark meat that has been aged for up to six months before consumption. This gives the fish an extremely intense flavor and smell that takes some getting used to! Despite its interesting taste, Hákarl has been enjoyed in Iceland for centuries due to its high nutritional value and protein content; one serving contains about 20g of protein per 3oz serving! 
Skyr
The creamy, tangy goodness of Skyr—the traditional Icelandic yogurt—is a must-try when visiting Iceland. It has a thick texture similar to Greek yogurt but with more protein per serving. The natural sweetness of the milk used to make it gives Skyr a unique flavor that is sure to be enjoyed by all. Plus, its health benefits are undeniable: one cup provides 17g of protein and only 120 calories! 
Kjötsúpa
Finally, it would be remiss not to mention Kjötsúpa—Icelandic Lamb Soup—when discussing the country's most popular foods. This hearty soup combines potatoes, carrots, onions, and flavorful cuts of lamb cooked in a light tomato broth until they're fall-apart tender. Serve it with crusty bread or boiled potatoes for a complete meal experience you won't soon forget! 
All in all, there are plenty of tasty culinary delights awaiting you during your trip to Iceland. Whether it's savoring the unique flavors of Skyr or braving Hákarl's pungent odor at least once during your stay; these delectable dishes will leave an unforgettable impression on your palate (and nose!).
So what are you waiting for? Gather up your courage and explore this Nordic gem through its tantalizing cuisines today!
Wrapping up
No matter what time of year you visit, Iceland is a country that offers an abundance of natural beauty and unique experiences.
With careful planning and budgeting, you can enjoy all that this amazing country has to offer – from the mesmerizing Northern Lights in winter to the Midnight Sun in summer.
So what are you waiting for? Start planning your trip to Iceland today!