Last updated:
It's that time of year already – when I sit down to pull together the annual HikeBikeTravel outdoor lover's holiday gift guide. I've got lots of suggestions from books to boots, energy bars to food dehydrators and some cozy winter wear. I'm hoping I save you a few trips to the shopping mall, and you find some new ideas that friends and family alike would enjoy.
This post includes some affiliate links. If you make a qualifying purchase through one of these links, I will receive a small percentage of the sale at no extra cost to you. Thank you very much for your support.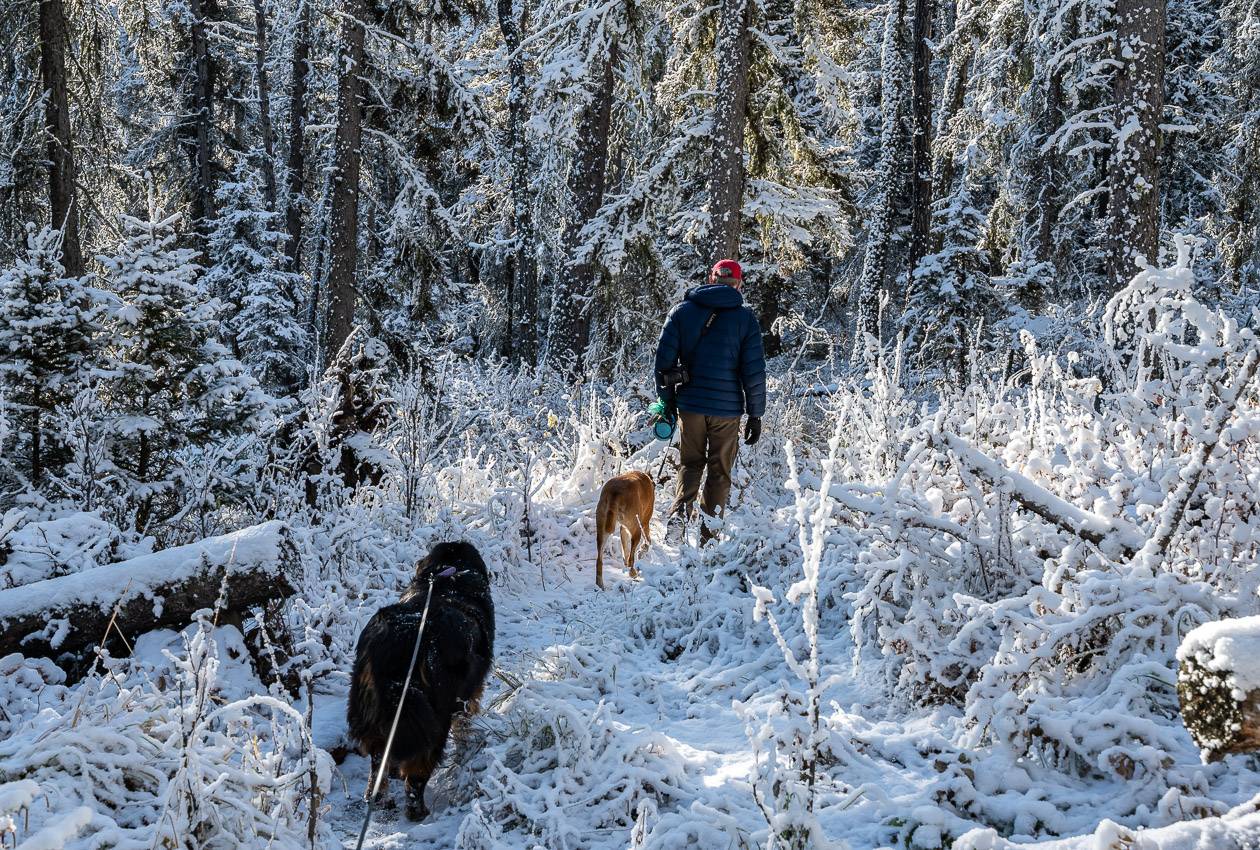 Good reads
The Art of Misadventure: The Outtakes and Mistakes of an Adventurous Photographer by Dave Brosha. This is a great read if you need to laugh. Follow along as Dave takes you on some of his fantastic misadventures – cue the time he worked in the Far North and was up at the top of a telephone pole when three polar bears stopped to check him out! I loved the book and couldn't put it down.
Chasing Africa – Fear Won't Find Me Here – A Memoir by BC author Lisa Duncan. She describes her four-month solo adventure in Africa as a young woman, trying to reconnect with her adventurous spirit, though feeling guilty knowing she has left her mother at home to look after a father with Parkinson's and a brother with progressive multiple sclerosis. The book will resonate with anyone who has felt a loss of identity while being in a caregiver role.
Around England with a Dog by Nova Scotia author Lesley Choyce takes you to the United Kingdom by way of France (as there is no quarantine for dogs) with their West Highland terrier, Kelty. Join Lesley and his wife as they dash around the U.K. in search of all kinds of history, weird and quirky destinations, food, and of course places for the dog to pee. My take away – I'll leave my dog at home!!
200 Nature Hot Spots in Alberta by myself and Debbie Olsen was released in June 2022. We added more sections to the book, including hiking for food, wheelchair and stroller friendly hikes, lake skating, ice walks, and family-friendly hikes. We also added additional unique nature hot spots. I think the book would make a great gift for any Albertan – and there are lots of ideas that could be turned into a fun road trip.
Top 150 Unusual Things to See in Alberta by Debbie Olsen was also released this past summer. In the 272-page book, Debbie takes you across Alberta and shows you loads of unusual things that you probably didn't even know existed. Learn about unusual foods invented in Alberta, unusual festivals and events in Alberta, unusual bathrooms for regular people, and unusual sites around the province. This book is a fun read filled with lots of did you know kind of cool facts.
Beyond the Trees – A Journey Alone Across Canada's Arctic by Adam Shoalts, "Canada's greatest living explorer." Journey with Adam from his starting point in Eagle Plains, Yukon Territory, to his destination in Baker Lake, Nunavut. In the 4,000 kilometres in between, discover how he deals with a "maze of obstacles including shifting ice floes, swollen rivers, fog-bound lakes, and gale-force storms."
Hydroflask Wide Mouth Water Bottles
Anyone who owns something made by Hydroflask knows that the products are durable and that they deliver what they promise they'll do. If they say, drinks will stay hot for 12 hours then you can count on a hot coffee in the wilderness 12 hours after leaving your car. The same can be said for anything you want kept cold. 
I tried out the Lightweight Hydroflask Wide Mouth Trail Series and loved the fact such a light stainless-steel version could keep my water well-chilled for an extensive period of time. It's a noticeable 25% lighter than the heavier walled wide-mouth versions.
The retail price range is between $53.95 and $64.95 depending on what size you choose. You can buy on Amazon here, or via MEC. 
Hydroflask coffee mugs
I tried out the 6-ounce and 24-ounce version of the Hydroflask coffee mugs – which can be used for any hot beverage. My three-year-old granddaughter absolutely loves the smaller version – and even her little hands could open and close the sipping lid. I think I'll use it when she visits to reduce spills. However, it also feels good in my hands and is perfect for working at my desk or taking on car camping trips.
The 24-ounce version is ideal for people who love coffee and want to sip it over a couple of hours. It's the perfect weekend mug when you can take a few hours to sip coffee, read, or just watch the world go by. All the mugs are made with pro-grade stainless steel.
You can purchase some sizes on Amazon here in Canada and in the US directly through Hydroflask.
Peakfreak II Mid Out Dry Men's Hiking Boots
A pair of Peakfreak II Mid Out Dry Men's hiking boots made by Columbia Sportswear showed up on our doorstep for John to try. I don't know how many times we've gone together to get him hiking boots – and seven pairs later, he still hasn't found one that fits. These ones fit true to size and have excellent arch and ankle support. They are waterproof and breathable with a cushioned mid-sole.
He's been wearing them dog-walking but also hiking in the mountains. He's never had a blister or rub point – and maybe it's his feet – or maybe just great design. I personally love the blue laces on dark grey look.
They retail for between $135 to $180. You can buy them directly from Columbia Sportswear.
Colombia Sportswear Long Sleeved Shirts
Columbia Sportswear makes a large variety of long-sleeved shirts for men at good price points. John tried the Newton Ridge II Plaid Long Sleeved shirt and his comments was that it was perfect for hiking with the back cooling vent, quick dry feature, and two front pockets. He also liked the fit – not too tight – and the weight of it. It would be a good shirt to take backpacking or traveling.
You can buy it in orange, blue, or grey in sizes XS to XXL for about $75 on the Columbia Sportswear website.
Leki Glace 3D Mitt
The LEKI Glace 3D Mitt is an exceptional mitt for cold days. "Like a sleeping bag for your hands is how they've been described." I completely concur. I have worn them on a -25ºC (-13ºF) day and I can truthfully say that my hands did not get cold – which is a first. Inside the finger channels, the material is cozy. Baffles keep extra high insulation Primaloft in place. The palm is lined with a soft but durable Sheepskin leather and there's a cinch strap at the wrists so you can keep the snow out. I don't think I could wear anything else on a cold day now. 
The only downside for my Canadian readers is that you must either buy them in the US or have them shipped to Canada. They retail for $US119.95. 
Arctery'x Thorium AR Hoody
I was thrilled to receive the Arctery'x Thorium AR (all-round) Hoody. This coat is longer than the Thorium Jacket, a bonus on a cold Calgary winter's day. Other notable features are its weight – just 420 grams – and the use of European goose down that offers an excellent warmth to weight ratio. It comes with a synthetically insulated hood, two outside zippered pockets and one internal one with a stuff sack. The outside of the coat is made of a durable nylon and treated for water repellency. It's been designed as a cold weather midlayer under a shell or a stand-alone piece in cool, dry conditions.
Like any Arctery'x piece of clothing, there's a price to be paid, but I have found over the last two decades that my Arctery'x clothing lasts past the point of me wanting to wear it. I also know that the company has a great policy with regards to either fixing or replacing clothing that malfunctions so consider coats and high-ticket items investment pieces. They will also buy back your old Arctery'x clothing (if it's in good shape) for 30% of its value – and provide you with a gift card on the spot.
This coat retails for $400 on their website. You can also purchase it in black only from MEC.
Hillsound BTR stool 
If you've got someone on your Christmas list who does a whole lot of camping, especially in the backcountry, they would probably enjoy the Hillsound BTR stool as it gets you off the ground. It's a classic tripod design weighing in at 346 – 399 grams, depending on which size you choose. The lightweight legs collapse but when it's in a tripod position, a phantom lock system holds them securely in place. The stool is lightweight enough that you should be able to take it on a multi-day backpacking trip. The legs come in black, orange, or glacier blue.
Buy it for around $90 from Amazon here or MEC here. 
Energy Bars
Anyone who heads outdoors should be packing extra food – not only for the day, but in case of an emergency. Energy bars make great stocking stuffers for the outdoorsy people in your life, especially if you get a variety of flavours.
CLIF Energy Bars are one of my favourites, especially the white chocolate macadamia nut CLIF Bar though I see they have a new one that sounds good – peanut butter banana with dark chocolate.  I also recommend the CLIF Bar Builder's – packed with 20 grams of protein.
You can feel good about buying CLIF bars – not only for the high content of organic ingredients, but for the fact the CLIF has partnered with Nature Canada to help more Canadians gain access to the outdoors through CLIF® DAY CAMP. It's a one-of-a-kind, all-inclusive experience created to help deserving Canadian families enjoy the great outdoors.
Food Dehydrator
A food dehydrator is a great gift for the backpacker who is sick of buying pre-packaged meals but likes to cook. I've had a dehydrator for about 15 years and it's still going strong. I use it in fits and spurts – more in the spring when I start cooking and drying meals and snacks in bulk for upcoming summer hiking trips. This food dehydrator is $79.99 though you can spend more if you're after a larger capacity.
Stellar Beanie Night Sky
Need a hat that does more than keep you warm in the cold? The Stellar Beanie by Sunday Mornings is different than most. For starters, it's reversible so you can enjoy "everyday grey" during the daylight hours and the starry side – when you want to be seen in low-light conditions. It's made of a very soft, merino wool blend and offers a snug fit.
It retails for about $Cdn44. It's for sale on Amazon here – and on the Sunday Afternoons website.
Muck Boot Company boots
Called the "Women's Originals Duck Boot Lace" and retailing for $Cdn190, my daughter is completely thrilled with them. To see the boots in action, check out this Instagram reel. After wearing them for about a month she had this to say:
✔️ Super sturdy – they have serious ankle support.
✔️Great grip – I have not been sliding on the ice in these.
✔️SUPER comfortable – I have wide feet so finding comfy boots is near impossible and these do not make my feet fall asleep like so many thinner types.
✔️Great warmth – I have been using them in -18ºC and they have kept my feet the right temp – not too hot and not too cold.
✔️Waterproof – They have a rubber shell with waterproof leather so your feet won't get wet. Plus, they are high enough that you can walk in pretty deep snow.
✔️Beautiful design – I can go from the dog park to meetings in these so love the versatility of the design. I am seriously thrilled with these and know that they will get a lot of use throughout the winter.
In full transparency, I have yet to find a negative. Like I said, with wide feet, it's exceptionally difficult to find comfortable footwear so I am very happy to have something that fits so nicely. And they fit true to size.
Purchase the boots via Amazon here or via the Muck Boot company here.
XTRATUF Leather Ankle Deck Boots
I have tried the XTRATUF Ankle Rain boots and loved them for their comfort and ease of getting off and on. They are excellent for wide feet. The leather ankle deck boot is a similar product, though they aren't as true to size – running a half size smaller than stated. Again, they are super easy to get on and off – and the type of boot that you leave by the back door, because you wear them all the time and they look good with just about anything. They also make men's versions. 
These boots are not for Canada's nasty winter weather as they just aren't designed for warmth. But when you get a thaw, this is a great boot to wear, with excellent traction.
More reading on things to do over the winter holidays